So you know what that means...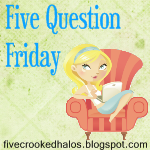 I haven't done one it awhile...so I think it's time I did:)
1. If you had the opportunity to bungee jump, would you? Heck no...are you crazy??
2.
Would you rather go to the movie theater or to the drive-in? I would love to go to a drive-in...I think it would be so much fun:)
3. Do you have your groceries delivered? I wished...it would make my day less stressful...lol
4. Eyebrows:
Do you wax, thread, pluck, or stay
au
naturel
? I'm all natural.
5. W
ould
the people you went to high school with be
surpri
sed
by your life today? No not really.