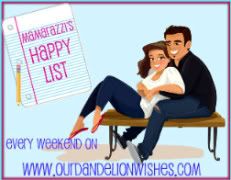 It's Saturday and this is my HAPPY list!!!!!!
I'm Happy cause I got to sleep in this morning.
I'm happy cause we are dyeing eggs tonight and Miss Bailey is super excited!!!!!
I'm happy about our nice weather...I'm going to put the volleyball net up today and have some fun with the family:)
I'm happy that we got our little garden planted yesterday...tomatoes and peppers. And more to be added later in the week.
I'm happy cause it's Saturday!!!!
What is your HAPPY LIST???