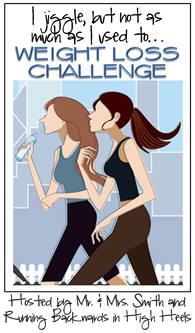 This is something I need to do....and I'm going to JUST DO IT:)
I'm not really happy about my weight and I want to change that.I have always been around 130-135,but now I'm 150 and would LOVE to fit back into my old clothes that are collecting dust.
My goal is to weight 135...I can do this!!!!
Walk on the treadmill for 20 minutes and try to walk at my local park too.
And start back doing 30 day shred with JM....she is one tough cookie.
I need to track my calories...I have a myfitnesspal account,so this will help alot!!!!
Drink more water and eat more fruit.
And I Iove the idea of receiving encouraging words from all you ladies.
So I'm ready to get in shape and look hot again:)