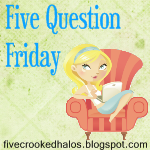 1.
Would you rather be on ABC's Extreme Home
Makeover
or
TLC's
What not to Wear?
That's a easy one...Extreme Home Makeover!!!!! They do some awesome things on that show.
2.
Do you have any tattoos?
No,but I want one and only one. But I'm a scared cat,maybe one day before I get old and wrinkly...lol
3. D
o you tell your kids about things you did growing up?
4.
If the traffic signal turns yellow, do you stop or speed up?
I speed up...duh!!!! But if it's a big intersection I will slow it down.
5. What's your preference:
chocolate
or chips?
Oh wow that's a hard one...I like my chips with dip,so If I couldn't have dip I would eat a ton of chocolate.
Here is a funny list about chocolate...


Your turn....
Click Here

~~Kelly~~