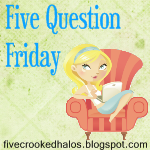 1.
Can you drive a stick shift?No...I rather put on drive and GO....LOL
2.
What are two foods you just can't eat? Liver and Sushi....yuck
3.
Do you buy Girl Scout Cookies? What is your favorite kind?Yes...I love the Samoas and peanut butter cookies
4.
How do you pamper yourself?get a pedicure and shop:)
5.
What is your nickname and how did you get it? I really don't have one.
Have a Funtastic Friday!!!!!