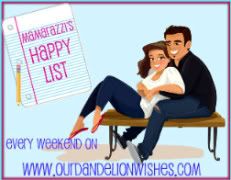 Well it's Saturday,so that's one thing to be happy about...hehe
I'm happy about the nice weather we are having in the state of Alabama....sorry to all the people with snow still.
I'm happy cause we don't have a single thing planned today,so we have a relaxing day.
So happy that the Girls Night Out with my daughter last night, was so AWESOME!!!!!!!
She had a blast at the JB movie and mommy did too:)
So what is your HAPPY list????