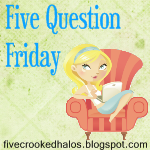 Another wonderful Five Question Friday from
1. Do you know what your REAL hair color is?
Yes....medium brown with red highlights
2.
Do you plan ahead for summer, or fly by the seat of your pants?
We usually plan ahead...due to my hubby's call schedule
3. What is your favorite meal to cook?
Hot wings on the grill,grilled potatoes and onions and crack beans...this is baked beans with because they are so good you go to have them...just like a crackhead has to have his crack...lol
4. Do you get offended by not receiving thank yous?
5. How did you meet your best friend?
In 9th grade Alabama History class....and I married him:)
Hope everyone has a FUN Friday and a great weekend!!!!!