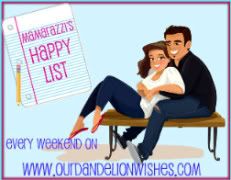 I'm happy cause I'm doing My Favorite Things Swap with Mamarazzi.....so excited!!!!!
I'm happy that my daughter Bailey is going to be in a beauty pageant on March 19th.
Strut your stuff girl....lol
I'm happy about how nice the weather is today....going to give my yard a little TLC!!!!
I'm happy about having a bonfire outside last night...with my little family:)
I'm happy about my Birthday is coming up in 11 days....I think my hubby has something up his sleeve....hmmm
I'm happy cause it's almost Spring and I get to buy lots of pretty flowers.
So what your Happy List....