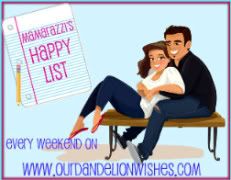 1.I'm happy about my wonderful little family:)
2. My hubby doesn't like to go shopping,but he did today and it made me the most happiest woman in the world....thanks B.<3
The kids were happy too....they got some toys too.
Bailey's loves her Big Al....Roll Tide Roll!!!
Giving Big Al lots of love:)

PJ the fishing man with his new lures.....ready to catch a Crappie.
I got a new pair of jeans and some workout shorts.
The hubby got 2 shirts and a cool camo hat from Bass Pro Shop.
To end the wonderful shopping day we got our bellies full....thanks to Logan's Roadhouse.
What a great day!!!!!!
3.It's only 18 days until my birthday....WOO-HOO!!!!!
4. I'm happy that Army Wives comes on tomorrow....I love this show:)