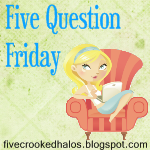 1. What is your current favorite book, and why?
The Rescue...I love Nicholas Sparks books. His book are so real.
2. Do you go to the dentist regularly?
I keep the kids on a schedule,so does that count???
You got me...no. I really need to make appt today...thanks for reminding me:)
3. What is your worst memory from High School?
It had to be when I got my woman thing for the first time....it was awful!!!!My mom came and got me from school and to make matters worse I had a field trip the next day. So I really didn't enjoy the trip:(
4.
What do you hope to be remembered for in your life?
Well I hope that I would be remembered as a great mom that would do everything for her kids. And a good wife that kept her hubby in check...lol
5.
Are you superstitious or do you have any superstitions?
Not really....but when it comes to watch our favorite football team...Alabama Crimson Tide,we do some crazy things.
1. My hubby always wears his crimson underwear...TMI:)
2. We always get all of our decorations out way before the game starts.
3.And we always watch the game at our house...we get invited to some of our friends house,but we tell them no thanks.Come to our house!!!!!
I know that sounds crazy,but that how we do it:)