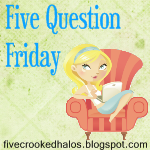 1. If you had $1,000 to donate to a charity, which would you choose?Anything to do with children:)
2.
Snow days: Do you welcome them happily or are they a pain in your butt?Considering we don't get much snow in Alabama...I would probably welcome it and so would my kids:)
3.
What talent did you wish you had and why?I wish I could dance like a professional....why cause I love to dance!!!!!! I watch all those dance movies and wish that was me:)
4.
Are you a news, politics or celebrity gossip junkie?I would say news..like football news,especially if it's Alabama Crimson Tide....RTR!!!!!!
5. What is your favorite "cocktail"? (Are you a beer person, a kiddie cocktail junkie, or perhaps your more the "Cosmo" kind?! Anything flies...doesn't
hafta
be alcoholic!)I'm a beer girl most of the time...I really wish I wasn't,cause you know what happens....a beer belly. But I do like White Zinfandel.
Have a great weekend.