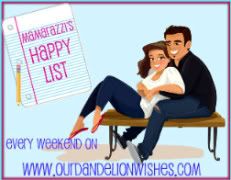 I missed last weeks...due to alot of things on my plate.
But I'm here this weekend
...
WOO-HOO!!!!!!
1. I'm so happy my hubby has been off all this week....but I have been slacking in the cleaning dept. But hey I would rather spent time with him:)
3. My daughter was sick this week and is getting alot better....thank goodness. I don't like when my kids get sick.
4. My brother is in the Air Force and he just got deployed to Afghanistan and he got there safe and I got to talk to him today,now just pray that he stays safe and comes home really soon.
5. My sister-in-law is coming home for awhile:)
6. My son,PJ and my hubby is going to a Alabama basketball game tonight and he is super excited about it....RTR!!!!!!
Hope everyone has a great weekend!!!!!!