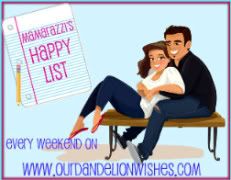 What's on my Happy List....
1. I have my whole house clean...so that means I can goofy off the rest of the weekend...WOO-HOO!!!!
2. My wonderful hubby that works so hard so I can stay at home with the kids...Thanks B...Love so much:)
3.The BBS starts in 18 days...I'm so ready for it!!!!
4. My kids...they are my world.
5. Going shopping tomorrow with the best shopping buddy ever...My mom!!!!!!
Hope everyone has a great weekend!!!!!!